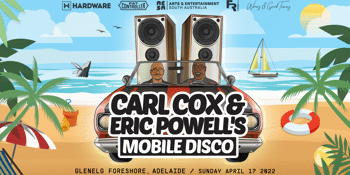 Fat Controller & Hardware Presents
CARL COX & ERIC POWELL'S MOBILE DISCO
Jimmy Melrose Park (Glenelg, SA)
Sunday, 17 April 2022 2:00 pm
Fat Controller & Hardware Presents…
CARL COX & ERIC POWELL'S MOBILE DISCO
Glenelg Beach Foreshore
ADELAIDE GET READY FOR THE BIGGEST BEACH DISCO OF 2022
● DANCING APPROVED
● 2500 DISCO FRIENDS APPROVED
● WINE & GOOD TIMES APPROVED
Thank you for being patient with us, It's been a difficult 12 months for our community but are thrilled to announce, WE ARE BACK. Back with an even bigger and better show, taking in the truly stunning and picturesque surrounds of the Glenelg Beach Foreshore.
Join us as we make our hugely anticipated return to a full festival format where we can dance, eat, drink & celebrate DISCO with Carl Cox and Eric Powell. All happening outdoors on an open air dance floor at the iconic Glenelg foreshore featuring world class sound, lighting & production.
Carl Cox & Eric Powell will be doing what they do best - digging deep through their extensive record collections and picking out their favourite soul, funk, disco & house tracks that they were brought up with and have influenced them over the years. It's a known fact that they have many gems in their archives!
Both Carl Cox & Eric Powell will be entertaining the crowd with a HUGE 8 HOUR SET from day to night. So get your moves ready, this is one Mobile Disco you won't want to miss.It's going to be fantastic, Oh Yes Oh Yes!
FREQUENTLY ASKED QUESTIONS: https://bit.ly/FAQdisco