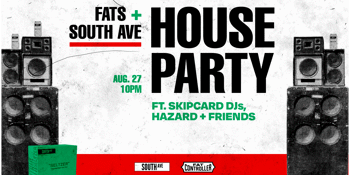 FATS x SOUTH AVE HOUSE PARTY
Fat Controller (Adelaide, SA)
Saturday, 27 August 2022 10:00 pm
Fat Controller and South Ave presents

𝗙𝗔𝗧𝗦 𝘅 𝗦𝗢𝗨𝗧𝗛 𝗔𝗩𝗘 𝗛𝗢𝗨𝗦𝗘 𝗣𝗔𝗥𝗧𝗬 with South Ave Seltzers on special all night long alongside your favourite party tunes from Fat Controller's favourite DJs. This is something you don't want to miss, Saturday 27th August doors at 10pm, free entry on lists till 11pm.

Taking South Australia by storm, South Ave Seltzer is the hottest Seltzer on the market featuring five iconic flavours SOUR WATERMELON, CRISP APPLE, GRAPE, LYCHEE and BRAND NEW LEMON.

★ FREE ENTRY ON LISTS UNTIL 11PM / WITH HOUSING BOOM WRISTBAND ★

𝗖𝗢𝗠𝗣𝗟𝗜𝗠𝗘𝗡𝗧𝗔𝗥𝗬 𝗦𝗘𝗟𝗧𝗭𝗘𝗥 𝗙𝗢𝗥 𝗧𝗛𝗘 𝗙𝗜𝗥𝗦𝗧 𝟭𝟬𝟬 𝗚𝗨𝗘𝗦𝗧𝗦 +

🤝 2 for $15 SOUTH AVE cans all night
🤝 $12 SOUTH AVE SPRITZ
🤝 $15 SOUTH AVE SLUSHIES

𝗦𝗞𝗜𝗣𝗖𝗔𝗥𝗗 𝗗𝗝𝘀, 𝗛𝗔𝗭𝗔𝗥𝗗 + 𝗙𝗥𝗜𝗘𝗡𝗗𝗦

Birthday lists available! Message the Fat Controller page.